Altenew Build-A-Flower Blog Hop + Giveaway
11:00:00 PM
It's Dana here and I'm so happy to be part of Altenew Build A Flower Blog Hop. Hopefully you came here from amazing
Kymona
's blog, but if not, please check out full blog hop list in the bottom of this post.
To celebrate first anniversary of Altenew Build A Flower series, I have two cards to share with you today. I kept same layout on my cards featuring
Altenew Build A Flower Peony Blossom
, but used different mediums and techniques. Let's get started!
For my first card, I
For my second card, I
Pin It
Darling, every time I see you, I fall in love all over again.
I'll find you in any life time.
Hope you enjoyed my set of cards and sentiments. Which card is your favorite?:)
Supplies
I'm sharing a listed supplies I used today. I'm a part of Altenew affiliate program and if you shop through these links, I got a small commission without extra cost to you. Thank you in advance for your support.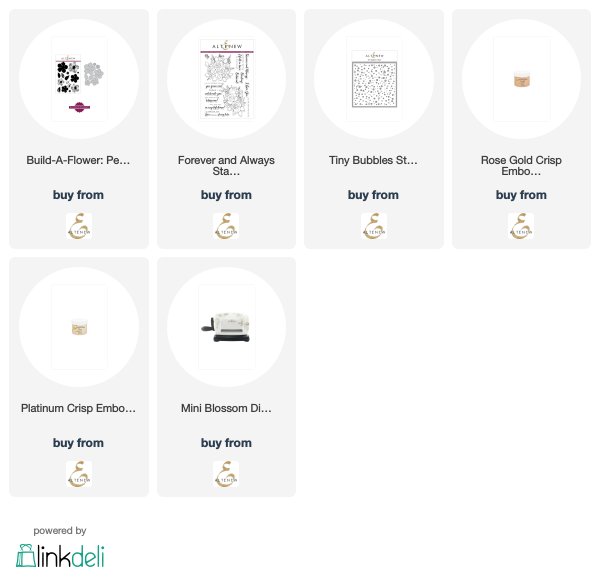 Prize 1
Altenew is giving away a $30 gift certificate to six lucky winners! Please leave a comment on the
Altenew Card Blog
and/or
Altenew Scrapbook Blog
by Friday, March 2nd for a chance to win. Six winners will be announced on the Altenew blogs on 3/4/2018.
Prize 2
Place an order from the
Build-A-Flower Collection
from 2/26/2018 until 3/2/2018, and you will automatically be entered into a raffle for a chance to win a big prize! One lucky winner will be chosen to win a prize pack valued at over $120 including one Original MISTI stamping tool, Artist Markers Set C, and Soft Pastel 6 Mini Cube Set. No minimum purchase needed! A winner will be announced on March 4th on the Altenew Blogs.
Giveaway
I'll draw a winner who will receive a $20 gift certificate from comments here. Winner will be announced on 3/3/2018 on my blog. Check out 'Altenew' category at that time.
Blog Hop
Your next stop is
Svitlana
's blog. Don't miss her awesome post! Happy hopping!
Altenew Card Blog
Kristina Werner
Therese Calvird
Lilith Eeckels
Kathy Racoosin
Jessica Frost-Ballas
Reiko Tsuchida
Laura Bassen
Kristina Pokazanieva
Jennifer McGuire
Altenew Scrapbook Blog
May Sukyong Park
Alice Wertz
Virginia Lu
Kymona Tracey
Dana Gong
Svitlana Shayevich
Hussena Calcuttawala
Donna Mikasa
Erum Tasneem
Zinia Amoiridou
Agnieszka Malyszek
Rubeena Ianigro
Lydia Evans
Marge Yoon